EMT refresher courses are a critical component of maintaining skills and certification in emergency medical services. As an EMT, it is essential to stay up-to-date on the latest protocols, equipment, and techniques in order to provide effective prehospital care. 
Although initial EMT training provides the foundation, medicine and best practices evolve rapidly. Refresher education ensures EMTs continue to deliver appropriate, high-quality care to their patients.
Both state licensing agencies and the National Registry of Emergency Medical Technicians (NREMT) require EMTs to complete refresher courses for recertification. This may involve traditional classroom instruction, online training, or a combination. 
Requirements vary between states but generally include a minimum number of continuing education credits along with skills verification. Some states mandate full, formal refresher courses every two years, while others allow semester-hour credits. Regardless of the exact specifications, EMT refresher education is mandatory for practicing at the EMT level.
The following sections will explore state and national recertification mandates, typical refresher course content, online vs. in-person options, skills exams, continuing education credits, and tips for successful renewal. Maintaining certification through quality education is essential for EMTs to refine and refresh their critical, often lifesaving, skills.
State and National Requirements
Recertification requirements for EMTs vary by state but generally involve continuing education credits along with skills verification. For example, Florida requires EMTs to complete 30 hours of refresher education with specified content distribution as well as demonstrate competency in various clinical skills every two years. California mandates 24 hours of CE along with skills testing for license renewal. Some states, like Texas, have mandatory in-person refresher courses.
Nationally, NREMT recertification can be achieved either by examination or continuing education. 
EMTs choosing the CE route must complete 40 hours with set topic distribution, including Basic Life Support (BLS) CPR/AED renewal. Some EMTs get online emergency certifications like Advanced Cardiac Life Support (ACLS) and Pediatric Advanced Life Support (PALS), which contribute to the recertification of CE totals. Specific state and national requirements, including accepted CE sources, must be reviewed thoroughly.
EMT Refresher Course Content
While specific content may vary, EMT refresher courses generally cover core knowledge and skills areas vital to emergency medical services. Typical subjects include:
Preparatory

: reviews EMT roles and regulations, wellbeing, documentation, ethics, and EMS system interaction.

Airway Management

: focuses on establishing and maintaining the patient's airway, including oxygenation, suctioning, intubation, and artificial ventilation.

Patient Assessment

: covers scene size-up, primary and secondary assessment, monitoring, and determining transport priorities.

Medical Emergencies

: reviews assessment and treatment of common medical complaints like chest pain, altered mental status, seizures, shock, syncope, abdominal issues, and more.

Trauma Emergencies

: focuses on mechanisms of injury, trauma triage, bleeding control, shock, soft tissue injuries, burns, head/chest/abdominal/musculoskeletal trauma, and more.

Special Populations

: addresses cardiac arrest, stroke, OB/GYN, neonates, pediatrics, geriatrics, bariatrics, special healthcare needs, and more.

Operations

: reviews ambulance operations, gaining access, rescue techniques, hazardous materials, crime scene awareness, and stress management.
Course content provides a comprehensive review and skills verification for safe, effective patient care within the EMT scope of practice. Offerings are tailored to meet state and national requirements.
Online and In-Person Options
EMTs have flexibility in completing refresher education through online courses or in-person programs.
Online options allow EMTs to refresh knowledge on demand through interactive modules, videos, and activities. This can be done around work schedules and other commitments. Online courses meeting state and national requirements provide full EMT refresher education.
In-person programs offered through EMS agencies, colleges, hospitals, and training centers provide face-to-face instruction and hands-on skills training. This allows for live practice and feedback on skills like patient assessment, splinting, bandaging, airway management, and more. In-person courses may be required in some states.
Many EMTs appreciate the convenience of online learning paired with the benefits of hands-on practice. Hybrid programs incorporate both online education modules and in-person skills training. Whether online, in-person or a mix, the key is choosing a refresher program that meets applicable state and national requirements.
Skills Verification and Practical Exams
Regardless of the refresher education format, EMT recertification requires skills verification through practical exams and skill sheets signed by approved evaluators. This ensures retention and competence in vital EMT skills like:
Patient assessment

 – scene size-up, primary survey, vital signs, secondary survey, reassessment.

Medical emergencies

 – cardiac arrest management, altered mental status, stroke assessment, seizures, respiratory distress, and more.

Trauma management

 – bleeding control, splinting, bandaging, spinal immobilization, trauma triage protocols.

Technical skills

 – oxygen, suctioning, CPR, AED, spinal immobilization, bleeding control, fracture/dislocation immobilization.

Operations 

– ambulance operations, gaining access to patients, radio communications, and documentation.
Skills are tested through scenario-based assessments where EMTs demonstrate appropriate evaluation, decision-making, treatment, and protocols. Passing evaluations help validate ongoing field competency for recertification.
Continuing Education Credits
Tracking and submitting continuing education credits is essential for EMT recertification. Required CE hours must be completed through approved courses and providers. This includes:
Refresher courses are offered by accredited EMS training programs, colleges, hospitals, and online providers.

Nationally recognized courses like ACLS, PALS, PHTLS, AMLS, and BLS CPR/AED.

Local EMS seminars, workshops, and conferences for CE credits.

Online EMS is continuing education through accredited providers.

National EMS conference participation for CE hours.
EMTs must maintain thorough documentation like course completion certificates, skill sheets, transcripts, and rosters. Recertification paperwork must clearly demonstrate completion of the required credits along with appropriate distribution amongst mandatory topics. Keeping meticulous records ensures a smooth recertification process.
Tips for Successful Recertification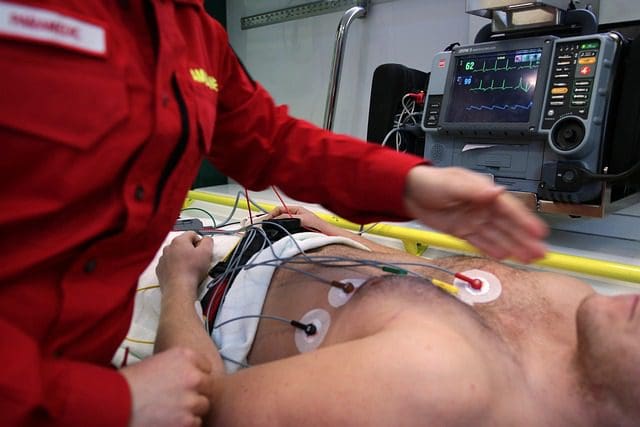 Here are some key tips for EMTs to renew their certification smoothly:
Review state and national requirements annually and schedule courses accordingly. Deadlines creep up quickly.

Don't procrastinate. Complete continuing education credits steadily over the full certification period.

Ensure your courses and online education are approved for EMT recertification purposes.

Maintain current BLS, ACLS, and PALS certifications which offer CE credits.

Take complete course records to practical exams for documentation.

Find a recertification mentor, like a training officer, for guidance.

Start the online recertification application early, allowing time to submit materials.

Don't cut corners. Ensure you meet every applicable requirement to avoid delays.
Staying organized and proactive are the best ways for EMTs to maintain skills and renew their certification on schedule.
Conclusion
EMT refresher training is critical for honing skills and renewing certification. Requirements vary but generally involve continuing education credits, skills verification, and cognitive exams. While recertification mandates exist for public protection, quality refresher education truly benefits EMTs through reinforced learning and elevated practice.
Online, in-person, and hybrid programs allow flexibility in fulfilling requirements. The key is choosing approved, comprehensive courses and maintaining diligent records. Following state and national guidelines while proactively tracking progress makes navigating recertification manageable.
Quality education and training create skilled, confident, field-ready EMTs. Staying current through regular refresher courses allows EMTs to provide the best possible patient care as practices evolve. EMT recertification ultimately supports providers in saving lives through updated competencies.
Featured Image by F. Muhammad from Pixabay