Complete Guide
The advantages of modern equipment are small size, power, and ease of use; that's why the owner's physical training doesn't matter much. This also applies to such large-sized equipment as a chainsaw. But do you need to be a license owner if you need to work using a chainsaw? Let's make things clear if you need to get a chainsaw license.
A chainsaw is an indispensable tool in the household. The saw allows you to cut wood quickly and efficiently, and it's often needed for gardening, when logging or planting, during seasonal work. Before buying it, you wonder, "Do I need a chainsaw license to operate it?" According to the cordless chainsaw reviews, no clear-cut answer is possible. This all depends on the country you are living in. 
Most governmental bodies around the world understand the risks when operating the chain saws and have appropriate bylaws made to decrease the number of accidents and mishaps. However, the rules are different all over the world, and even regions have different regulations, so we recommend studying local laws or addresses to a local or regional body that could tell you all about the standards of usage. 
Assessment tests
You will probably have to pass assessment tests if a chainsaw license is needed for your professional activity, but the demands will differ when you intend to apply a chainsaw for home use.
In the United States, the U.S.

 Forest Service

is involved in the safe usage control of both chainsaws and cross saws by implementing the National Saw Policy. However, the Forest Service has elaborated on the rules for the territories under its jurisdiction and the skilled operators working on these territories. Still, it doesn't regulate the usage of chain saws among private citizens. 

The U.S. authorities, with the help of the Forest Service, impel new sawyers to receive training to use these powerful tools properly and obtain chainsaw license certificates. These training sessions help sawyers to operate and maintain the chainsaw correctly, use the required protective equipment, and follow the safety rules to reduce the emergence of mishaps.

Canada has analogous rules regarding usage. It's better to contact the authorities of your region, but in most cases, training is obligatory for those who will use the chainsaws for commercial objectives.

In the U.K., a license is not required for home-usage. However, workers must be trained to guarantee that they can properly perform their work and take the precautions prescribed by regulatory laws. The fact is that the insurance company won't pay up in case of casualty if a person is not qualified to apply a chainsaw.

Australia has stricter requirements for the usage of chainsaws. The state obliges the owners to pass a nationally accredited training and then receive an accomplishment statement for a chainsaw license. In addition to this requirement, all chainsaw workers must periodically certify that they can perform chainsaw works safely and qualified. A ticket is issued to a lawyer who has successfully passed the assessment and expires every three years. Once this period has expired, workers will need to be assessed again.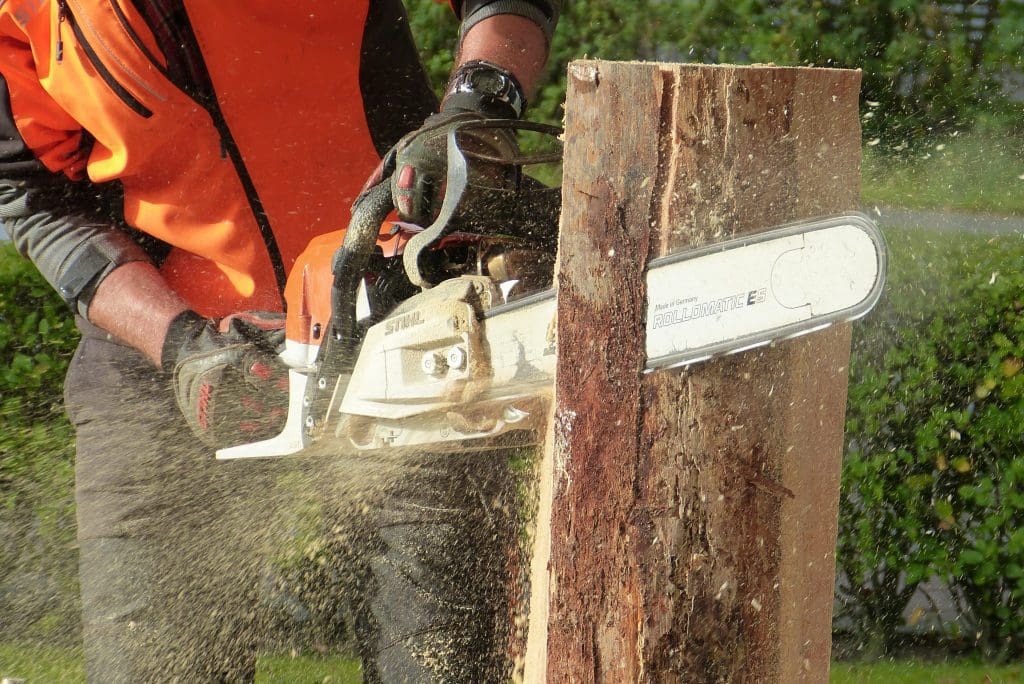 How to Use a Chainsaw: Operation, Maintenance, Safety Rules
A chainsaw is an excellent tool for cutting wood, characterized by high performance and reliability. But before you start working with it, you must carefully read the attached instructions and perform a number of preparatory actions.
Tips on how to use a chainsaw correctly are divided into four groups:
Preparation

Launch

Operation and safety rules

Maintenance
Preparation
It is a motorized tool based on a two-stroke internal combustion engine. It runs on a fuel mixture of chainsaw oil and gasoline. The proportion for preparing the fuel mixture may vary depending on the manufacturer, so please read the operating instructions before preparing it.
Launch
After filling the fuel mixture, you can start the second stage – launching the chainsaw. Here you will also need the manufacturer's instructions.
It briefly and clearly describes the main stages of this operation:
Check the chainsaw chain tension (pull the upper-middle links)

Pull the chain along the bar. Under normal tension, it rotates easily.

Place the chainsaw in a flat area. You can use a chainsaw mill to cut straight, even lines with your chainsaw.

Turn off the chain brake, ensure that there are no foreign objects under the saw chain, and pull the starter a couple of times to warm up the tool.

Check the supply of grease to the chain.
Operation and safety rules
It is a traumatic tool. This fact should not cause panic. It's intended to encourage the owner to control his actions during work.
The basic rules of how to operate a chainsaw correctly are the following:

Before starting work, check the robustness of all mechanism mounts. Make sure that the chain is tight. Check the level of gasoline and grease.

The tool must be held firmly, with both hands, holding the balance.

For better sustainability, keep your legs widespread and your back straight.

If you change the position during sawing, first stop the saw. By pressing the brake, make sure that the chain is not being rotated. Only then should you move along the saw surface.
Brief safety rules on how to operate are given below:
Before cutting down a tree, make sure that it will not damage power lines or buildings as it falls.

Clear the area of shrubs and other things to provide an escape route when a tree falls.

Do not saw the rotten trees, the planks of wood with nails.

The stuck chain should only be removed after the saw has been stopped.
Maintenance
When finished, the tool must be cleared of sawdust and debris. Don't forget to check the chain tension and the level of grease. Proper maintenance of the chainsaw requires regular checking of chainsaw parts and their condition. This will help you to prevent constant chainsaw repair. Use a chainsaw sharpener for the better work of your tool.
Types of Chainsaws
Selecting a chainsaw should be based on the volume and nature of the work to be done with it. These criteria determine what type of tool to purchase.
There are three groups according to the type of power sources:
electric;

gas;

battery-powered.
Each group's tool is the most effective in its field of application.
When the tool is required for simple household and garden work (room repairs, sawing wood, cutting dry tree branches), it is enough to purchase an electric chainsaw. It is easy to operate, and it has a relatively small weight. But don't forget to remove tree branches and leaves when the work is finished. The best leaf shredder might help you to complete the task.
All gas chainsaws are powered by an internal combustion engine.
Gas models can be divided into three groups according to their application:
for household purposes;

semi-professional;

professional.
The most productive and powerful tools are professional ones; they are used for full-fledged building work.
Gas-powered tools are much more functional than electric ones. The main advantages of gas chainsaw are its high performance and the ability to work in high humidity conditions.
A battery-powered chainsaw is a portable tool that is easy to use. It is convenient for transport. The battery-powered tool doesn't produce much noise and doesn't emit exhaust gases. The performance of these saws is low, and the operating time is limited by the battery charging volume.
So, after determining what type of tool you need, another question arises – where to buy a chainsaw? A lot of shops and Internet platforms offer its services when it comes to purchasing. But how to choose the tool correctly out of the offers? The best place to buy a chainsaw is a reliable shop. We recommend you to study some cordless chainsaw reviews to get a better idea of how to choose a chainsaw.
Conclusion
Any chainsaw of household or semi-professional class is suitable for household purposes. They are better designed and adapted to such working conditions. Professional tools are the best for a more complicated task. People with sufficient physical strength should use it if its sizes are too big. Remember that only proper operation and maintenance can extend the life of any chainsaw.
Don't forget to study the laws of your country to understand whether it's necessary for you to get a license to operate it.
How often do you use the chainsaw? What chainsaw can you recommend? Share your opinion with other readers.
Author Bio 
Alex Green is a copywriter with three years of experience. He is fond of healthy living and knows everything about home improvement. In his spare time, Alex likes walking with his golden retriever, meeting with friends, and attending the gym.