Swaragini 12th May 2016 Online Written Episode Updates: Swara Falls Off The Cliff!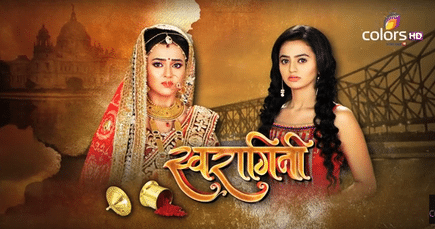 In the last episode of Swaragini, we saw that Swara believed that Uttara came to know about Rajat's truth, and she denied to wed Rajat. Uttara denied Rajat to marry him. On that Rajat asked to shoot Durga Prasad and telephoned his goons. Uttara was panic and thought that Swaragini is responsible for this all.
Annapurna entered the room and saw Uttara on Rajat's gun point. Uttara said that go out from here Rajat is dangerous. Annapurna told Rajat that this marriage is not going to happen. On that Rajat replied that it'll occur, and the gun and Smacked Annapurna falls on the floor. Swara was coming towards Uttara's room, but goons were there. Annapurna took the gun and asked Uttara to be left by Rajat. He denied. Annapurna shoots and Rajat made Uttara in front of the bullet.
Uttara shot and fell on the bed. Swara came and Swara was made by Rajat as captive and took the firearm from Annapurna. Everyone came there. Sanskar requested Rajat to leave Swara; Rajat made Swara with him, and Ragini told him that they have saved Parineeta. Rajat escaped with Swara and then everyone moved to see Uttara. Rajat said Swara that Parineeta knows everything, and this was her plan make herself higher and so as to make you weak in everyone's eyes.
Now in today's episode of Swaragini we will see that Lakshya, Ragini, and Sansakar will go to find Rajat. They will follow him and will locate Rajat. They are going to reach a peak and on another one, they are standing.
Sanskar will menace Rajat by saying that I'll shoot at you. Rajat will say that I 'll not leave Swara. Sanskar will yell for Swara.