Swaragini 4th May 2016 Written Episode Updates: Sharmishtha Fights With Dadi!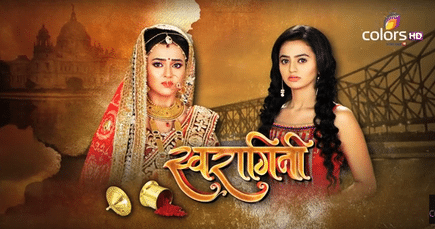 Ragini was shocked of knowing this. At that time Lakshya and Sanskar came there and heard everything. They all determined to make Parineeta free from Rajat. Sanskar said that they ill tell the truth to everyone.
Swara was shouting and said we ca't do this because Rajat is having Uttara's if we'll tell anyone of this all and his private pictures which he will post on web. He wants the marriage to be happened. Everyone determined to make any strategy and make everything sorted.
While on the other hand Dadi again gave milk to Sharmishtha and said drink it as it is almond milk and is good for your health.
And told me she needs to kill our baby and that poison was added by Maa in this. Dadi stated that yes she needs to kill this baby , which will make her embarrassed in the society.
Ragini and Lakshya took Rajat for Sherwani shopping and from the back Sanskar and Swara was discovering the hard disk or device in which Rajat kept his and Uttara's pics. Sanskar found it and checked it in laptop.
Rajats bogus parents came there and said that Rajat will be informed by them now. In today's episode of Swaragini we'll see that Rajat's bogus parents will threaten Swara and Sanskar and they will make an effort to console them by giving them some money. Ragini will move to Dadi's house.
She'll find some fighting sound from interior. She is going to request from Dadi taht Marwadhi and Bengali fight started again.
Then one neighbor will tell her that Sharmishtha is pregnant. Of hearing this Ragini will get shocked. Stay tuned for more updates like this.